Fired by tradition: Herring Pond Wampanoags hold mishoon burn to keep heritage vibrant.
Rachael Devaney, Cape Cod Times
Rachael Devaney, Cape Cod Times
PLYMOUTH — As rain poured down at the site of the mishoon burn, Taylor Harding Stasis, a member of the Herring Pond Wampanoag Tribe, sighed in relief. The brief shower was a welcome respite as waves of heat emitted from the slow simmering flame burning through a 20-foot piece of white pine.
The log, she said, will eventually become a mishoon — a traditional Indigenous canoe — that can hold five to six people.
"Traditionally, our boats are our lifelines. You need a boat to go fish, to whale," she said. "For us to be able to do this and eventually sail on our waters is bigger than us. Because it's also about our ancestors who died before us so we could still have this."
For three years, Harding Stasis said she's been advocating for the tribe to host a mishoon burn. The burn, which commenced Friday, has become a way to bring tribal members and sister tribes together. Over time, she said, federal recognition processes have created some separation between Wampanoag tribal bands.
"Throughout this burn, we want to remember that we come from the same seed," she said. "It isn't the government, the politics or the grants that keep us together. It's cultural practices like this."
Melissa Ferretti, chairwoman of the Tribe said the burn is one way toward tribal unification.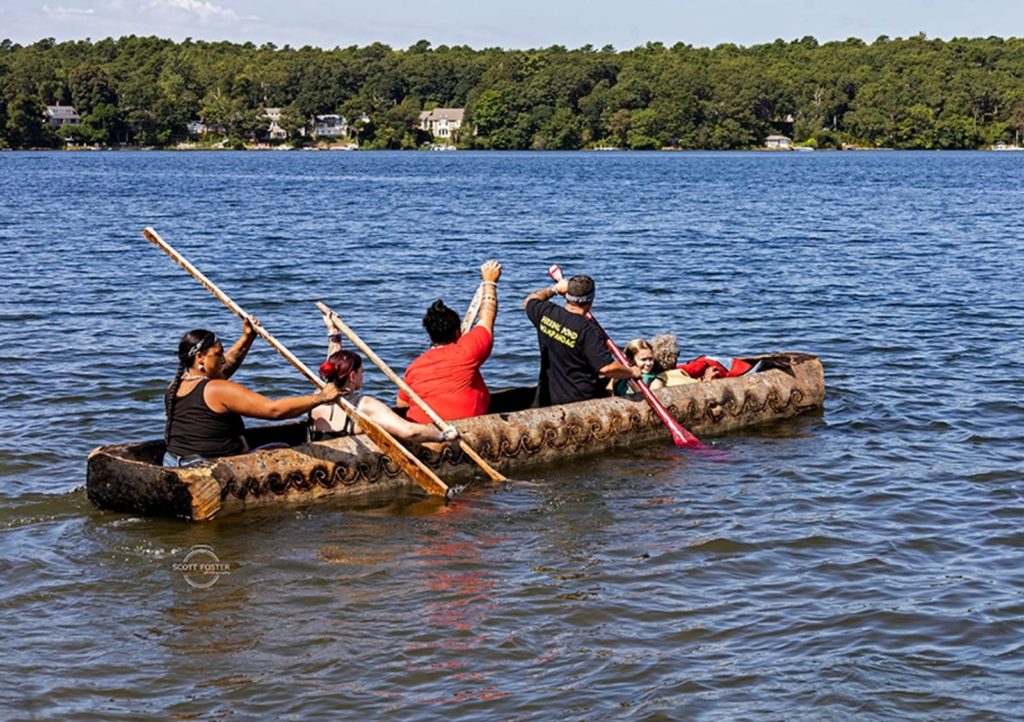 Public invited to Herring Pond Wampanoag mishoon
"Everyone should feel welcome — we want to bring our people closer together and conduct an event that isn't business related for once," she said.
The burn is also open to non-Native community members, said Ferretti and the tribe will hold public visiting hours from noon to 4 p.m. daily at 173 Herring Pond Road. "We want to also educate people on our traditional ways," she said. "It's important for everyone to have the opportunity to do that."
Mishoon burning begins in a forest
For Jennifer Salt, a tribe member, the mishoon burn journey began in a wildlife sanctuary on Monday in Ware — "Nipmuc territory," as Salt called it. Along with Harding Stasis, Salt met with Andre "Strong Bear Heart" Gaines, a member of the Nipmuc Tribe and co-founder of No Loose Braids, a Nipmuc-led organization that works to bring Eastern Woodland tribal communities together through the cultural revitalization of traditional practices.
When the group found the white pine that would be used for the Herring Pond burn, the first thing Salt and Harding Stasis did was give an offering at the base of the tree. Salt, a firekeeper for her tribe, brought tobacco, and ancestral symbolic offerings such as primrose flowers. But she also brought ash and wood burn from fires that have previously been held for tribal members who have died.
"We keep the ashes and the wood burn from each fire, and during special times I use it as an offering," she said. "So I had all our ancestors with us that have passed on. The different families were with us."
Harding Stasis also sang a song, as tribal members walked around the tree.
A 'stubborn' pine tree
As Gaines and others began to work to fell the tree, Salt said the particular white pine was stubborn. It took 45 minutes, she said, for the tree to come down.
"They put one round of wedges in and it didn't move. They put more wedges in and it still didn't move," she said. "Then they started cutting logs and hammering the logs in and it still wouldn't fall. Finally, they got another big log and they wedged that and kept hammering and hammering and it went down."
It was then that Salt and Harding Stasis decided to hold the burn in honor of tribal elder Hazel Currence.
"She is one of our toughest elders and she has that power. She, like the tree, never goes down easy," said Salt. "She was going to make us work for it."
From moment to moment during the white pine's harvest, Harding Stasis said she was inspired by the inter-tribal collaboration. "The Wampanoag Tribe is a matrilineal society, so the burn, in many ways, has become a female-led initiative," she said. "We had men cut the tree down because they are life takers, and we are life givers. But as all of us worked together, we created something that will outlast us all."
Sailing the Wampanoag mishoon in local waters
When the burn is complete, tribal members will use the mishoon to move around local waters surrounding three parcels of land that were set aside for the Herring Pond Wampanoag Tribe in 1675, said Ferretti.
"The lot we are on (Meetinghouse Lot) was 200 acres at one time; the Great Lot across the pond was 2,600 (acres); and the Herring River lot that borders South Plymouth and Bournedale was 400 acres," she said.
The Meetinghouse Lot, where the mishoon is burning, has been held in tribal hands since 1675, said Brenda Weston, a tribal elder. Maria Ellis is Weston's descendant and owned the property as part of the lot that was given to her family.
"This is the first time we've done this (the mishoon burn) here. it's very exciting," said Weston.
As the mishoon continues to burn, Ferretti is looking forward to spreading the spark of the fire to surrounding tribal communities.
"We wanted to show our community that we can do this," she said. "This is living history and so important to be in kinship within the bigger Wampanoag nation."
Rachael Devaney writes about community and culture. Reach her at rdevaney@capecodonline.com. Follow her on Twitter: @RachaelDevaney.
Thanks to our subscribers, who help make this coverage possible. If you are not a subscriber, please consider supporting quality local journalism with a Cape Cod Times subscription. Here are our subscription plans.
This article originally appeared on Cape Cod Times: Mishoon burn offers a path for Wampanoag tribes to unite